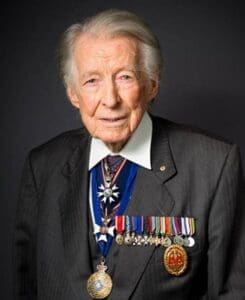 Sir Ian Turbott AO CMG CVO CStJ born 9 March 1922 passed away Thursday 11th August aged 94. Ian was a New Zealand-Australian former diplomat, university administrator and was actively involved in The Duke of Edinburgh's International Award as Chair of the NSW Advisory Committee from 1982 to 1995 and concurrently in that time serving as a Director of the National Board.
During his period of leadership he promoted the growth of the Award through his extensive network and ensured continuity of Government funding.
He served six years in the New Zealand Army during World War II, including service in Italy, the South Pacific and the Middle East. He left the army with the rank of Captain then joined the British Colonial Service working in Grenada and Antigua. He was made a Knight Bachelor in 1967 then immigrated to Australia in 1970.
Sir Ian held many corporate leadership roles including: Chairman, Cape York Space Agency; Deputy Chairman, Stereo FM Ltd (NZ); Chairman, Essington Ltd; Chairman, Penrith Lakes Development Corp Lt; Director, Standard Chartered Bank Ltd; Director, Capita Financial Group Ltd; Chairman, 2MMM Radio Group; Director, Newcastle FM Ltd; Chairman, Hoyts Media Ltd; Director, Hoyts Entertainment Ltd; Chairman, TNT Security Pty Ltd; Chairman, Advisory Board of American International Underwriters (Aust) Pty Ltd; Chairman, New World Pictures (Aust) Ltd; Chairman, Chloride Batteries Australia Ltd; Director Borg Warner Australia Ltd; Chairman, I.T. Graham Investments Pty Ltd. He was also a former Governor of Grenada.
He was appointed Foundation Chancellor of Western Sydney University and  was Australian Father of the Year in 1985.
Sir Ian's wife Nancy died some years ago and he leaves 3 daughters.
RIP Sir Ian