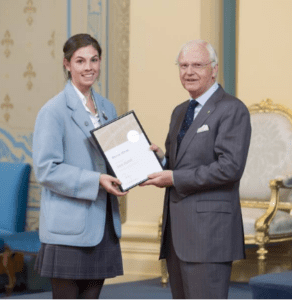 The Duke of Edinburgh's International Award – Australia is deeply saddened by the recent death of Gold Award Holder Harriet Nixon.
Harriet, from Moss Vale in NSW Southern Highlands,  died on 29th December 2016, aged 21, when a branch from a tree fell on her when she was helping to set up the Lost Paradise Festival on the NSW Central Coast.
Harriet completed all 3 levels of The Duke of Edinburgh's International Award (in NSW and Vic) and was awarded her Gold Award by the Governor of Victoria in 2013. As part of her Award Harriet was actively involved in music, personal fitness, volunteering at Bowral Hospital, expeditions to Tasmania's Overland track and a Cultural Experience in Europe.
Upon completing her Gold Award Harriet stated, "I did not do it for the glory but for the reward of helping others.  It has been a life-changing experience which has provided a unique opportunity and pleasure for me to connect with very special people at Oxley College, Timbertop, and Geelong Grammar including many others around Australia and parts of the world who have empowered me to believe in myself. It provided great opportunities to try new things".
Harriet embraced life and took on challenges with a big smile and an open heart and our deepest sympathies go out to her family and friends.
Harriet's funeral service will be held on Friday, January 6, at Oxley College, Bowral, at 2.30pm. It will be followed by a function at Bong Bong Racetrack.