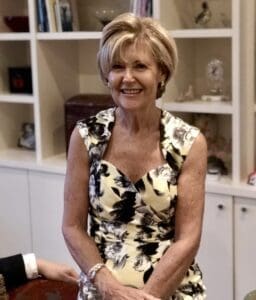 It is with great excitement that The Duke of Edinburgh's international Award – Australia, Victoria Division welcomes Sue Lloyd-Williams AO as the Chair of the Board, following the retirement of Gary Rowe, former Chair of the Board.
Sue has an extensive background in business and administration both nationally and internationally. With a distinguished 32-year career with the Victoria Racing Club (VRC) (including her role as Deputy Chief Executive from 2002 – 2011), Sue not only brings a wealth of valuable skills and knowledge, which will support the continued growth of the Award, but an impressive network which will assist us in expanding the impact of the Award for young people.
"I'm excited to be able to use my experience and knowledge to support the Youth of Victoria by ensuring greater access to the Award and the opportunities it gives young people. Such as the development of life skills which are becoming increasingly important in the face of the changing education landscape and increased youth unemployment" says Sue.
Furthermore, Sue also has an extensive board experience spanning commercial, educational and cultural industries. She is Chair of the Advisory Board, RMIT University School of Economics, Finance & Marketing; Deputy Chair of Melbourne Fashion Festival Limited and Board Member Bendigo Art Gallery.
"To further grow the impact of the Award in Victoria, we need to expand our tertiary and employment industry partnerships. Sue's is well positioned to support this next phase, and we're excited to put her skills, knowledge and network to use" says Stephen Mason, EO.
Sue's appointment comes at an exciting time, both for the Victorian office and for the Award Nationally, as 2019 marks the 60th Anniversary of the Award in Australia. The Duke of Edinburgh's International Award was founded globally by HRH The Prince Philip, Duke of Edinburgh in 1956, in conjunction with Kurt Hahn, the German educationalist. Today more than 130 countries have adopted The Duke of Edinburgh's International Award program with over 8 million young people having participated worldwide. Locally over 775,000 young people have participated in the Award in Australia in the past 60 years, with on average 40,000 very diverse Participants annually working towards achieving an Award.
In Victoria, there are over 10,000 young people currently undertaking an Award. Participation has grown significantly over the past few years, especially from young people living in regional and remote areas and experiencing forms of marginalization. The Award would like to thank Gary for his leadership and guidance during this period.
"We commend Gary for his professional succession plan and thank him for his tireless efforts as chair, we are well positioned to build on his legacy", says Stephen Mason, EO.
In response Gary said, "I am delighted to hand over the helm of the Duke of Edinburgh's International Award, Victoria to Sue Lloyd-Williams. I have been impressed by Sue's diligence and energy she has already brought to this role. The current Board and staff have worked hard to put us in a sound position ready for the next stage of development. I look forward to seeing wonderful things happening for the benefit of all young Victorians interested in undertaking the Award".