Yesterday His Excellency General the Honourable David Hurley AC DSC (Ret'd) Governor of New South Wales,  presented The Duke of Edinburgh's International Award - Gold Distinguished Service Medal posthumously to His Honour Sir Adrian Curlewis CBE CVO for his service to the Award in Australia. The medal was accepted by Sir Adrian's son, Ian Curlewis at a ceremony at Government House, Sydney.
A Gold Distinguished Service Medal is awarded for eminent, exceptional service and achievement and limited to one per year that the Award has been operating in Australia.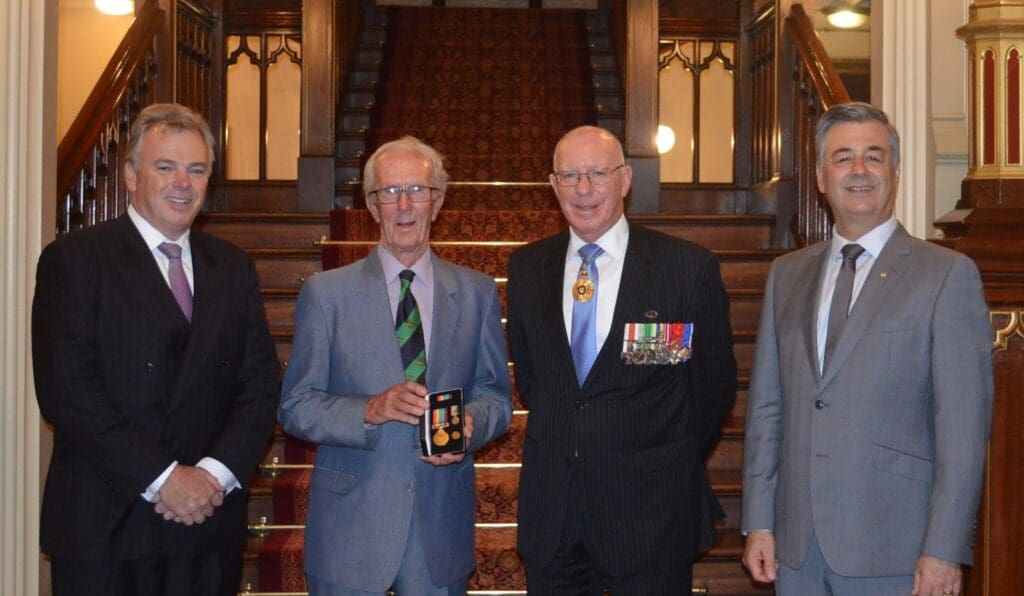 From the left: Cameron Smart, The Duke of Edinburgh's International Award Australia Board Member, His Excellency General the Honourable David Hurley AC DSC (Ret'd) Governor of New South Wales, Ian Curlewis, son of Sir Adrian Curelwis CBE CVO and Peter Kaye AM, CEO of The Duke of Edinburgh's International Award Australia
Founding Coordinator of the Award in Australia
In 1958, Sir Adrian was appointed by HRH Prince Philip as the first Nationa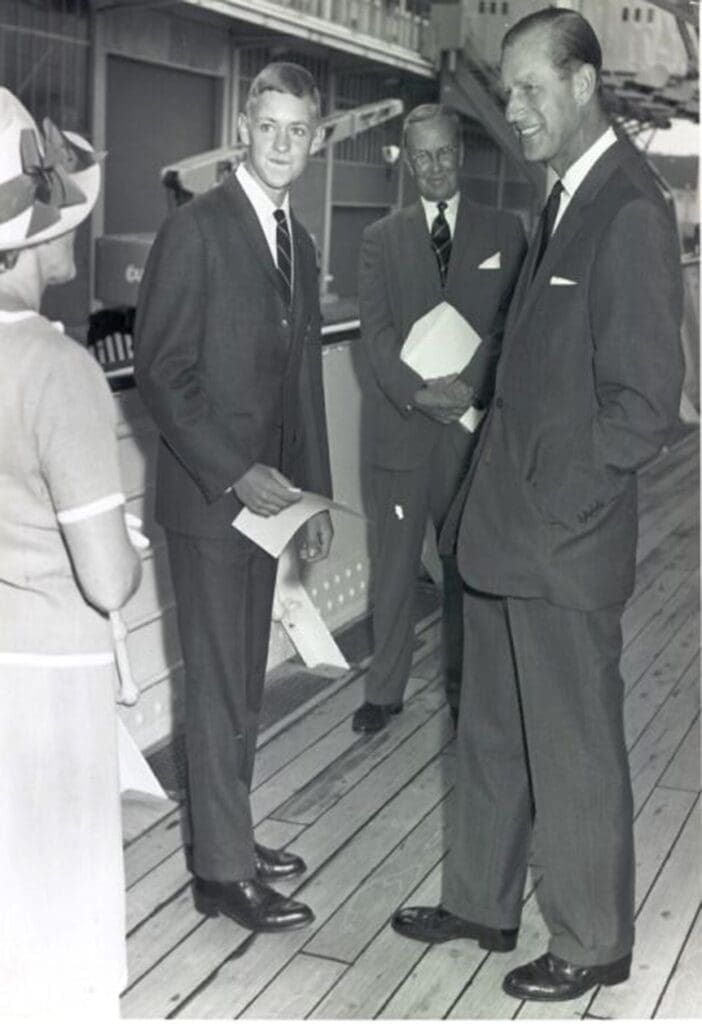 l Coordinator of The Duke of Edinburgh's International Award in Australia with the first award participants commencing in 1959. He was subsequently appointed National Chairman from 1962 to 1973. During this time, Australia was amongst the first countries to introduce the Award outside of the United Kingdom where it was established in 1956.
During this time, he made a most substantial contribution to ensure that the Award had the strong foundations and the resources to sustain strong growth. He was also very supportive and encouraging of our neighbouring countries in the South Pacific to also introduce the Award.
                                                          The photo is of HRH Prince Philip The Duke of Edinburgh with Sir Adrian Curlewis on board the HMY Britannia in 1963 where the first Gold Award was presented to Michael Dillon of Sydney Grammar School.
The remarkable life of Sir Adrian Curlewis
Sir Adrian Curlewis was born in 1901 in Mosman Sydney, born to Herbert Raine Curlewis and Ethel Turner – author of "Seven Little Australians". His family were always very community minded, including supporting charities and organizing ambulance and first aid courses during World War 1. Adrian had a great love for water sports spending his summers at Palm Beach learning to surf. After the drowning of two people at Palm Beach in 1923, Adrian founded the Palm Beach Surf Life Saving Club (SLSC) with some other local residents. Adrian was Club Captain from 1923-28 and Club President from 1929-33, going on to become President of the International Council of Lifesaving from 1956-73. In 1928, he married Betty Car who shared his love for the ocean and community; she often helped organise fundraisers for the Palm Beach SLSC.
After attending SHORE he studied law at Sydney University Sir Adrian and became a barrister. Sir Adrian become a highly regarded District Court Judge from 1948 -71.
Committed to serving the Community
In addition to his great service to the Award, Sir Adrian was also Chairman (1949-71) of the New South Wales National Fitness Council, founder (1956) of the Outward Bound movement in New South Wales, President (1934-41, 1945-75) of the Surf Life Saving Association of Australia, and President (1968-84) of the Royal Humane Society of New South Wales. He was also appointed CBE in 1962, CVO in 1974, and was knighted in 1967.
The Sir Adrian Curlewis Scholarship
His name continues to be recognised for his contribution in highlighting the potential in young Australians with the "Sir Adrian Curlewis Scholarship" being dedicated to the late Sir Adrian. The scholarship was designed to build skills in leadership and knowledge in selected young people in roles across Surf Life Saving clubs – at regional, state and national levels.
The scholarship aims to continue Sir Adrian's good work with the youth of Australia, investing in their personal growth and achievement much like work of the Duke of Edinburgh's International Award.
You can find out more information Sir Adrian Curlewis Scholarship at:
https://sls.com.au/meet-2010-sir-adrian-curlewis-scholars/
The Award Today
The foresight, dedication and commitment of Sir Adrian enabled the Duke of Edinburgh's International Award in Australia to become a household name with a reputation for being the largest inclusive and effective youth development program in the country.
The Duke of Edinburgh's International Award is a leading youth development program that empowers all young people to explore their full potential, regardless of their location or circumstance.  Every young person aged 14-25 who takes part learns a life skill, improves their physical wellbeing, volunteers in their community and experiences a team adventure in a new environment.
Through this challenging journey of self-discovery participants are equipped and empowered to achieve their personal best, to take ownership of their goals and life choices as well as become actively engaged within the community and workforce.
Run through schools, universities, indigenous communities, new refugee support programs, defense cadets, uniformed youth organisations, prisons, youth development centres and community organisations, The Duke of Edinburgh's International Award participation is available in cities, rural and remote areas.  Currently we have over 1,200 licensed award Centres who deliver the Award to nearly 40,000 young Australians with the help of over 60,000 volunteers across Australia.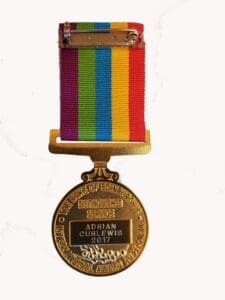 Sir Adrian Curlewis will continue to be remembered for his service to youth development on both a national and international scale.
We congratulate the late Sir Adrian and his family on receiving this prestigious distinguished service medal.