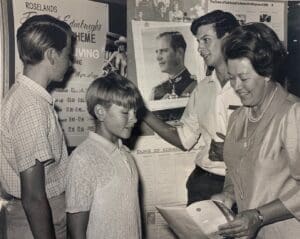 RIP Vivienne Ashcroft OAM.
It is with great sadness that we say goodbye to Vivienne Ashcroft OAM.
Vivienne was a mighty advocate for women especially in provided equal opportunities for all. She was a key player in opening The Duke of Ed up to women and those with a disability very early on in the Award's history.
She was also one of two Award Leaders who taught "Design for living" which was an alternate to the Adventurous Journey Section in the early days of The Duke of Ed.
The Award in Australia would not be the same without her generous and lifelong commitment.
Read about her other accomplishments here: https://dukeofed.com.au/people-that-matter-vivienne-ashcroft-oam/
Note on the above picture: In this picture, you can see Vivienne Ashcroft OAM talking to a young apprentice boilermaker who after his time cooking for his "Pursuits" (Skills) Section of The Award was thinking of switching to a cooking apprenticeship. In the back, you can see A picture of HRH The Duke of Edinburgh and a poster on the left detailing the times at which you could go to the newly opened Roselands Shopping Centre a take a Design for Living Course with Vivienne for your Award.