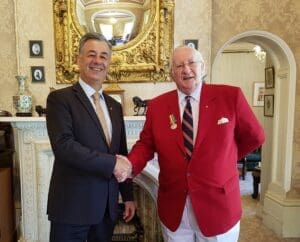 Rex Morgan AM OBE was awarded a Silver Distinguished Service Medal by the National Board on Wednesday 4th October in recognition for his substantial contribution to the growth of the Award through a range of Award governance roles between 1973 to 2012 and also as Chairman of the Australia College of Educators (NSW) where he was a lead advocate for the Award.
Whilst appointed by the Minister of Community Services to the NSW Board of the Award he also served as Master of Ceremonies for Regal and Vice Regal Functions and Gold Award Presentations from 1977 to 1984. Rex attended and contributed to International Award Foundation regional forums and meetings in his effort to establish the Award in Thailand. As President of The Friends of The Duke of Edinburgh's Award in Australia he was a driver of the major restructure of The Friends to ensure alignment with the National Board. All of these developments come with the vision of promoting wider and more inclusive access to the Award for all young.
The Award Today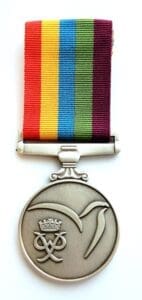 The Duke of Edinburgh's International Award is a leading youth development program that empowers all young people to explore their full potential, regardless of their location or circumstance.  Every young person aged 14-25 who takes part learns a life skill, improves their physical wellbeing, volunteers in their community and experiences a team adventure in a new environment.
Through this challenging journey of self-discovery participants are equipped and empowered to achieve their personal best, to take ownership of their goals and life choices as well as become actively engaged within the community and workforce.
Run through schools, universities, indigenous communities, new refugee support programs, defense cadets, uniformed youth organisations, prisons, youth development centres and community organisations, The Duke of Edinburgh's International Award participation is available in cities, rural and remote areas.  Currently we have over 1,200 licensed Award Centres who deliver the Award to nearly 40,000 young Australians with the help of over 60,000 volunteers across Australia.
We congratulate Rex on receiving this prestigious distinguished service medal.