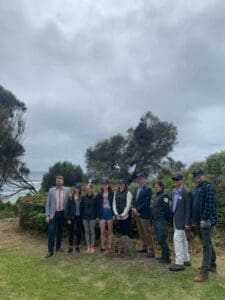 Thanks to Parks Victoria, Richard Riordan MP – Member for Polwarth and Kardinia International College for helping The Duke of Ed Victoria launch the National 60th Anniversary Award Tail in Victoria, celebrated by unveiling a commemorative plaque marking the beginning of the trail.
The trail is made up of 10 of the most popular Adventurous Journey walks around Australia, taken on by Award Participants with a "National 60th Anniversary Award Trail" plaque displayed in each location. Each walk will be 6km long (10 walks x 6km) making up the entire trail (60km), with Victoria home to two of the plaques, being that it has some of the most popular walking trails in Australia.
One of these plaques, launched today is displayed on the Great Ocean Walk, marking one of the most scenic and popular sections of the trail, Blanket Bay to Cape Otway.
The plaque has a QR code, so next time you're on the Great Ocean road walking the trail don't forget to check it out!
See the other Trail Walk here: