National Youth Week is an annual, week-long celebration of young people (aged 12–25) throughout Australia.
It is a joint initiative of the Australian, State, Territory and Local Governments. It gives you an opportunity to express your ideas and views, and act on issues that affect your lives. It also lets you have a lot of fun.
Each year, all over Australia, events are planned and organised to celebrate and recognise the contribution of young people. See links below to each state and territories websites.
National Youth Week 2016 will be held from 8 April to 17 April 2016.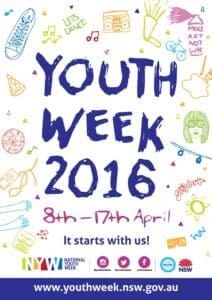 National Youth Week is an opportunity for young people to:
share ideas
attend live events
have their voices heard on issues of concern to them
showcase their talents
celebrate their contribution to the community
take part in competitions
have fun!
FIND OUT MORE