With over 8 million volunteering success stories worldwide since 1956 The Duke of Edinburgh's International Award knows that volunteering is crucial to creating healthier, happier young Australians equipped for work and life.
Locally over 35,000 Young Australians volunteer every year as part of The Duke of Edinburgh's International Award.  Gold Award participants spend a minimum of 52 hours volunteering over 12 months whilst Bronze Award Holders must contribute at least 13 hours over 3 months.
Structured as part of the Award, this service component encourages the discipline and routine of volunteering with the aim of creating a lifelong practice of community involvement and voluntary service.  This regular commitment to volunteering provides young Australians with an opportunity to actively get involved – an experience they enjoy as they witness the real difference they can make to the lives of others whilst developing a greater responsibility to themselves and their community.
National Volunteer Week (NVW) is a time to not only celebrate the generous contribution of our nation's volunteers but to recognise the role volunteering can play in creating healthier happier well rounded young Australians.
The volunteering component of the Duke of Edinburgh's International Award's is a valuable asset for young people. It builds self-confidence, responsibility, understanding and communication skills and showcases that they have experienced life outside the classroom as motivated community participants.
We are now seeing more and more universities and workplaces looking for candidates that have served their community in some way as evidence of a well-rounded character.  In a recent UK survey, 67% of companies surveyed believed entry-level candidates with voluntary experience have more employability skills to offer than those who don't.  The same survey also affirmed that 82% agreed volunteering develops team working skills, 80% said it had a profound impact on communication whilst time management and prioritisation, problem-solving, adaptability and leadership talent were also identified as key competencies young people with volunteering experience bring to the workplace.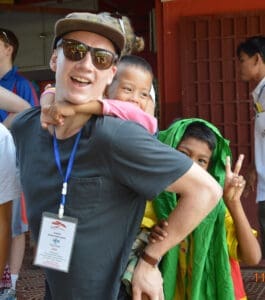 Scott McCurdo a recent Gold Award Holder secured a much sought after internship at a major accounting firm.  The company acknowledged they had chosen Scott as he "was the only candidate that had an impeccable record of community service".
Similarly, Universities across the country are also now starting to formally recognise the value of volunteering with many now offering bonus entry points (UNSW), priority access (La Trobe) and as approved activities (Bond University).