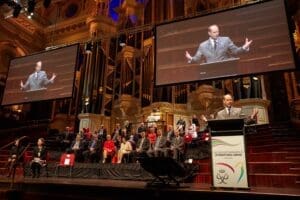 The National Gold Award Ceremony, the first and largest of its kind outside the UK was an incredible success. Nearly 400 young people from all the way around Australia got their Gold Award and not only did they meet His Royal Highness The Prince Edward, Earl of Wessex KG GCVO, but 17 prominent Australians were there to personally present the Awards on behalf of HRH. Among them was Deborah Thomas, Marc Fennell, Naomi Simson, David Campbell OAM, Indira Naidoo, Jeff McMullen,  Janine Perrett, Jayne Azzopardi, Graham Ross VMM, Dawn Fraser AC, Jack Thompson AM, Jeff Loy, Dan Illic, Layne Beachley AO, Kirk Pengilly, Eddie Woo, and Jacinta Tynan.
Roughly 1500 people attended the event, they included the families of the Award Holders, Award Leaders, local dignitaries, Supporter of the Award, Duke of Ed Staff, volunteers, the Masters of Ceremonies Anita Jacoby Am and Hamish Macdonald, the high profile Australians, and the Official Party which included: His Royal Highness The Prince Edward, Earl of Wessex KG GCVO, Captain Andy Aspen RN-private Secretary, The Honourable Gladys Berejiklian MP, Premier of NSW, The Right Honourable the Lord Mayer of Sydney Clover Moore, The Honourable Gary Nairn AO, Chairman of the Award in Australia, and Peter Kaye AM CEO of the Award in Australia.
A huge thank you to all those involved and to the City of Sydney for supporting the event.
Link Here: https://dukeofed.com.au/ngac2019/