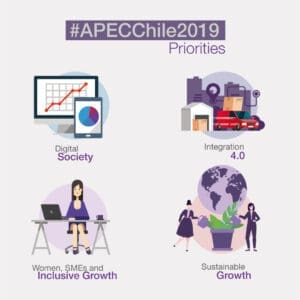 Find out about APEC Voices of The Future and about each of the Delegates representing Australia below.
About APEC 2019 Voices of the Future
Founded in 2007, APEC Voices of the Future is a youth meeting for exchanges among young students from each economy held concurrently with the APEC Summit, aiming to let young students know more about APEC, expand their horizons, stimulate their enthusiasm for taking on the roles of leaders, and promote in-depth cultural exchanges among countries.
The Voices of the Future program brings together young people with potential for leadership and making a difference in society, and exposes them to the real-life deal-making process of world leaders, inspiring them to do the same with their own ideas.
APEC in Chile
 APEC represents 60% of world GDP and nearly 40% of global population.
 In 2017, the APEC region grew by 4.1%, up from 3.4% in 2016.
 APEC represented 64% of Chile's exchange with the world, equivalent to US$86,103 million in 2017.
 Of the total exchange in 2017, US$47,695 million are exports to APEC and US$38,408 million are imports from the APEC region.
 69% of Chilean exports go to APEC, with an average annual growth of 8% between 1994 and 2017.
 58% of investments in Chile come from the APEC region.
 28% of Chile's foreign investments go to APEC.
 5,209 Chilean companies exported to the APEC region, which is equivalent to 64% of country's exporters (2017).
https://www.apecchile2019.cl/apec/apec-chile/apec-in-figures
The Australian APEC Delegates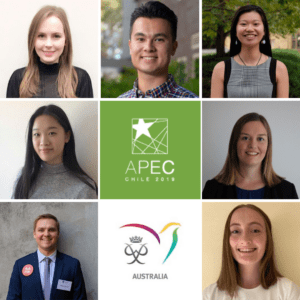 [accordions id='11995']
Read More Here: https://dukeofed.com.au/events/apec-voices-of-the-future/apec-2019-voices-of-the-future/