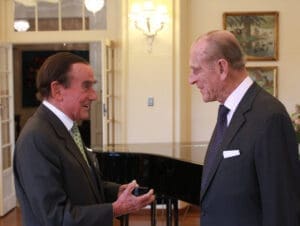 Our long standing Award supporter Michael Crouch AC was conferred the Companion of the Order of Australia in the Queen's Birthday 2017 Honours List announcements.
Michael was conferred the Companion of the Order of Australia for his for eminent service to the community through philanthropic contributions to youth, cultural, medical research and health care organisations, to business in the areas of manufacturing and international trade, and as a supporter of innovation and higher education.
Michael Crouch AC has been a long term supporter of The Duke of Edinburgh's International Award in Australia and his philanthropic work, governance and financial contributions have significantly contributed to the growth and success of the Award.
Michael was Director on the national Board from 2007 to 2012 contributing to substantial reform to improve the financial position of the charity and to develop new strategies to drive diversity and long term growth.
He also served on the organising Committee of the visit to Australia by HRH The Earl of Wessex in 2014. Michael was appointed Deputy President  of The Friends of the Duke of Edinburgh's Award in 2012 and continues to serve in that role today.
Later Michael become a benefactor for the Award in Australia, an Australian Award Ambassador, a World Fellow and more recently a Pearl Ambassador, financially contributing to the Award's growth internationally, with a particular interest in supporting the Award in our neighbouring Pacific countries.
Michael's generous support has funded the development of the Online Record Book as he was keen to ensure technology enabled more youth to have access to the Award. His support and commitment to this saw the Australian online record book technology being used as the international platform by over 40 countries. Michael was also the architect for the Award Ambassador program that has now over 70 prominent Australians as financial contributors and active advocates.
Michael is well known as a most successful international businessman, renowned for his entrepreneurial efforts, marketing prowess and innovation. In 1962 Michael acquired a small Australian company, Zip Heaters, which had been formed in 1947 to market kitchen and bathroom water heaters. Under his management, Zip expanded its product range to include hot water appliances of many kinds and in the 1970s introduced the world's first small instant boiling water heaters now widely used in home, office and restaurant kitchens. Zip has a market presence in over 70 countries. 1996. In 1996 Michael was named Exporter of the Year by the Australian Electronic & Electrical Manufacturers Association.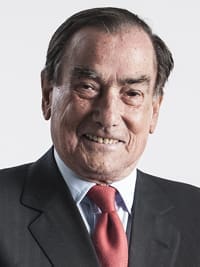 Michael's contributions to business and the wider community are numerous including:
1974 (to 1981) Member, Finance Committee, Liberal Party of Australia, NSW Division.
1976 (to 1976) Treasurer, Finance Committee, Liberal Party of Australia, NSW Division.
1976 (to 1986). Director, NSW Society for Crippled Children (Northcott Society).
1980 (to 1996). President and Trustee, National Parks and Wildlife Foundation.
1984 (to 1986). Director, Muscular Dystrophy Association NSW.
1984 (to 1989). Director and NSW Chairman, Advance Australia Foundation.
1985 (to 1987). Member, National Committee for Development of Youth Employment.
1986 (to 1994) Member, Finance Committee, St John's Ambulance, Australia.
1994 (to 2002). Member, Salvation Army Sydney Advisory Board, Rehabilitation and Services Command Advisory Board.
1996 (to 1999). Member, Australian Government Trade Policy Advisory Council.
1996 (to 2007). Member, Asia-Pacific Economic Cooperation Council (APEC).
1996 (to 2007). One of the three Australian representatives of Australian Prime Minister John Howard to the APEC Business Advisory Council.
1999 (to 2003). Director, Standards Australia International Ltd.
2001 (to 2012). Director, Advisory Committee & Advisory Council, Australian School of Business, University of New South Wales.
2004 (to 2013) Founding Chair, Friends of the Royal Flying Doctor Service of Australia (South Eastern Section).
2007 (to 2012). Director, National Board, the Duke of Edinburgh's International Award - Australia.
2012 (current). Director & Vice President, Friends of the Duke of Edinburgh Award in Australia.
2010 (current) Director, Advisory Committee, Brain and Mind Research Institute, Sydney University.
2012 (current) Director, The Queen Elizabeth Diamond Jubilee Trust in Australia.
2013 (current) Chairman & Director, Diamond Jubilee Partnership Pty Ltd
2014 (current) Chairman of the National Boer War Memorial Fund
Michael is a major donor to the arts and Australiana through Symphony of Australia, Australian Opera and NSW State Library's Amaze The Michael Crouch Gallery and the Festival of Sydney. He also actively supports research including establishing the Michael Crouch Innovation Centre at the University of NSW and The Michael Crouch Chair in Child and Youth Mental Health for the University of Sydney.
Michael was appointed to the Order of Australia as a member in 1988 and as an Officer in 2004. He is also an Officer of the Order of St John.
We congratulate Michael on this well-deserved recognition.