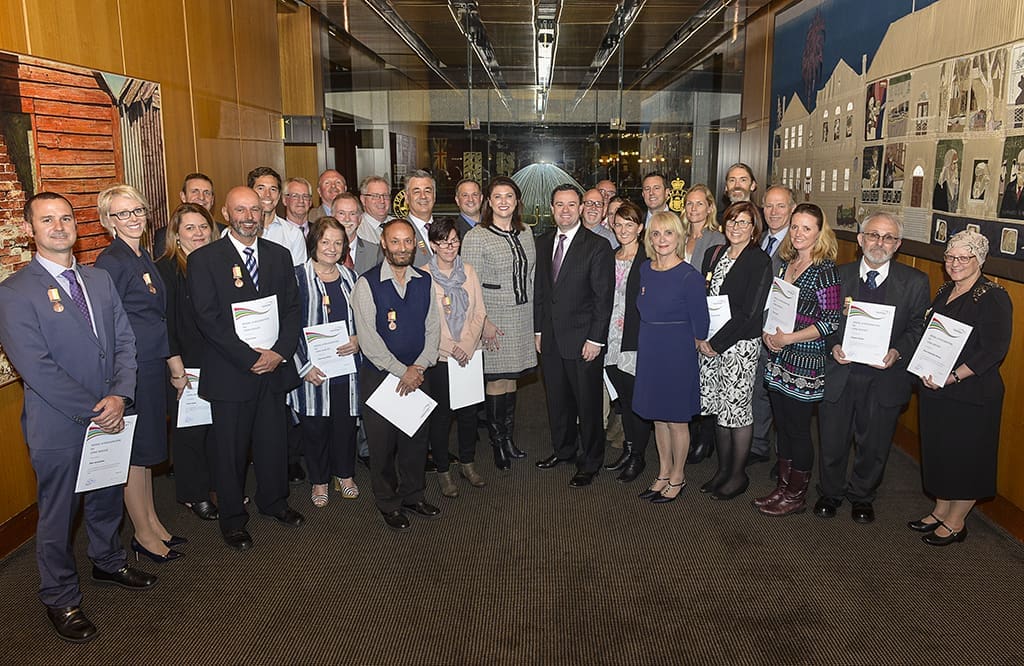 The Honourable Stuart Ayres MP, NSW Minister for Sport presented 26 Award Leaders and volunteers from NSW with the Duke of Edinburgh's International Award Long Service Medal on Wednesday 3rd May 2017 at Parliament House, Sydney.
The long service medal commemorates the commitment of these volunteers to the world's leading youth development program.
The Minister presented the recipients with their (10, 20 and 30 year) medals and Peter Kaye AM (CEO – National Award Authority) presented their certificates.
In his speech, the Minister, a Gold Award Holder himself, acknowledged the significant contribution that the Award has made to so many young people in NSW and sincerely thanked the Award Leaders for their ongoing valuable support.
Watch his speech HERE
The Long Service Medals is awarded after 10 years of service in a voluntary or paid capacity to the Award and on the day were presented to:
| Recipients name | Years service | Operator | Suburb or Town |
| --- | --- | --- | --- |
|  Alison Underwood | 10 |  Danebank Anglican School For Girls |  HURSTVILLE |
|  Clementina Getley | 10 |  St Mary's Cathedral College |  SYDNEY |
|  Dominic Garner | 10 |  Newington College |  STANMORE |
|  Greg Horsley | 10 |  Moorebank High School |  CHIPPING NORTON |
|  Kara Manga | 10 |  St Pius X College |  CHATSWOOD |
|  Klara Hollestelle-Watson | 10 |  Mater Maria Catholic College |  WARRIEWOOD |
|  Christopher Whicker | 11 |  Magdalene Catholic High School |  NARELLAN |
|  Claire Burden | 11 |  Cranbrook School |  BELLEVUE HILL |
|  David Jackson | 11 |  Turramurra High School |  SOUTH TURRAMURRA |
|  John Hughes | 11 |  Caringbah High School |  CARINGBAH |
|  Jolyon Gray | 11 |  St Augustine's College - Brookvale |  BROOKVALE |
|  Kevin Costa | 11 |  Molong Central School |  MOLONG |
|  Kim Maurer | 11 |  Georges River Grammar |  GEORGES HALL |
|  Surinder Singh | 11 |  Girraween High School |  GIRRAWEEN |
|  Alex Sarantakos | 12 |  The Riverina Anglican College |  WAGGA WAGGA |
|  Andrew Fuller | 12 |  Sydney Boys High School |  SURRY HILLS |
|  David Poirier | 12 |  Penrith Anglican College |  PENRITH |
|  Tania Etuale | 12 |  National Award Authority (NAA) |  SYDNEY |
|  Glen Byrne | 13 |  NSW Division |  SYDNEY OLYMPIC PARK |
|  Karina Richter | 13 |  Tara Anglican School for Girls |  NORTH PARRAMATTA |
|  Bill Ward | 14 |  Avondale School - Secondary Campus |  COORANBONG |
|  Clare Dorey | 14 |  Mercy Catholic College Chatswood |  CHATSWOOD |
|  Greg Malone | 14 |  Xavier College - Llandilo |  LLANDILO |
|  Raymond Kennedy | 15 |  William Carey Christian School |  PRESTONS |
|  Adrian Berry | 16 |  Scone Grammar School |  SCONE |
|  Jane Strachan | 16 |  Coleambally Central School |  COLEAMBALLY |
|  Mark Roach | 16 |  NSW Division |  SYDNEY OLYMPIC PARK |
|  Skye Russell | 19 |  William Carey Christian School |  PRESTONS |
|  Kevin Collins | 20 |  Killarney Heights High School |  KILLARNEY HEIGHTS |
|  Mary Kidner | 26 |  Frensham School |  MITTAGONG |
|  Douglas Walker | 30 |  NSW Division | BAULKHAM HILLS |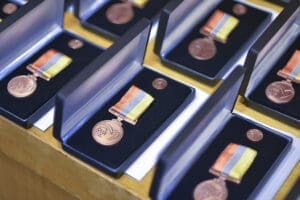 More Information on the Long Service Medal
In recognising these achievements, it is acknowledged that there are a significant number of other people assisting and working tirelessly in support of young people undertaking the Award who aren't registered correctly on our database. Information about the Long Service Medal including accessing the online nomination form can be found HERE