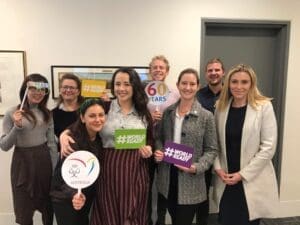 Monica, a Gold Award Holder and Emerging Leader as recognised by The Duke of Edinburgh's International Award Foundation and Presidents Award (South Africa) came into the office today to talk about her plans for the future and her love of the Award.
We were more than delighted to have her and hear what she had to say.
She will be attending an International Conference with the Earl and the other Leaders later this year to talk about the Award Internationally.
We look forward to hearing from Monica in the future as she continues to advocate for the Award.
"Emerging Leaders Renece (Cayman Islands) and Monica (South Africa) both discovered the Award at the age of 14.  They were inspired to take the challenge as part of their self-development. "I was not a top achiever in school and that made me feel really insecure, since I put a lot of pressure on myself to succeed. So I jumped at the opportunity to excel in a non-competitive environment - outside of the classroom - and I have never looked back," says Monica."
https://www.intaward.org/news/meet-our-eight-new-emerging-leader-representatives