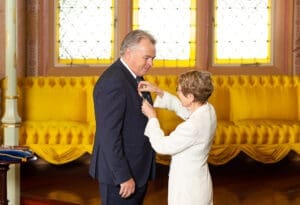 Cameron Smart received his Silver Distinguished Service Medal on Wednesday the 20th of November 2019. He received the Award for his exceptional service and achievement as Director and Assistant Treasurer on the National Board of the Award.
His substantive contributions and accomplishments for the Award Include:
Proactively directing the role out of the Board's strategic plan through the 2015 Strategic Plan development, Introductions/leads of delivery partners and advocacy in the Award's outreach work for disadvantaged, especially amongst indigenous youth
Provided leadership contributions at a governance level with the IAF regarding securing Australia as one of the two Social impact research sites for the PwC research
Member of the IAF's Alumni Working Party that has established a new Alumni Platform
The established of a risk management framework & register being used nationally helping create a proactive risk management culture
Working with the CEO to forge a high performing staff work culture at the National office through regular meetings and ongoing staff recognition initiatives
Bio
Cameron Smart has 30 successful years of experience in the commercial property industry. Cameron began his career with Craig Miller Pty Ltd where he was responsible for the property and asset management of a portfolio of commercial properties, gained experience as a property valuer as well as exposure to court work in the areas of land acquisition, resumption and family law.
Throughout his career with several high profile property companies including Richard Stanton & Sons and Landsburys International (of which he was a founder), he has been responsible for investment sales and acquisitions for and on behalf of high net worth individuals, property trusts and institutions.
Cameron has also become involved with some of Australia's leading institutions, guiding their investment and development strategies, in particular the Uniting Church in Australia. Cameron has been an active committee member of BOMA (the forerunner to the FCA) and a non-executive Director of the Uniting Church Trust Association, a role which he held for some 13 years.
Throughout his involvement with the Uniting Church, Cameron has served on School Councils, The Board of Education (the church's governing body for its educational and conference activities) and Burnside Home. Cameron is currently on the National Board of The Duke of Edinburgh's International Award – Australia.
Find out more about the Board Members here: https://dukeofed.com.au/about-us-2/governance/national-board/