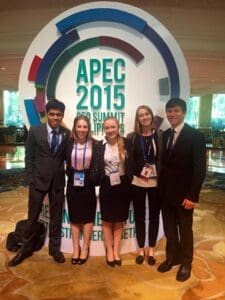 Applications are now open for 5 young Australians to represent Australia at APEC VOICES OF THE FUTURE 2016. From 12 -19 NOV in LIMA PERU
The youth forum runs alongside the APEC summit and is a great opportunity to network with global leaders and representatives and address this year's theme of "Quality Growth and Human Development".
We are looking for 5 participants to represent Australia (4 youth participants 18-25) and (1 educator over the age of 25).
If you are interested and are studying and or have good knowledge of trade, the economy and international relations, especially related to APEC then apply today.
Applications close on the Monday 12th September and shortlisted applicants will be interviewed.